"Tender grain"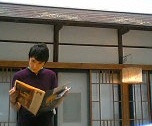 "Tender grain" A whole new world of Firo: During the Japanese Onsen Chillout project "Narukyo" and "Shibukyo", Firo had various electronic music sessions with different people from the local community. He developed and reached out creating his own new frontier in electronic music. Tender Grain will be released this summer.
Invited for special guest appearances, Tetsuroh Konishi (Tp) renowned support player with Why sheep? and Gen Hoshikawa from Dry River String for vocals plus Cobi from Coupie, Nao for chorus. Shining particles of sounds and positivity, fragments of shining music he discovered in many areas around Japan.
Including "Our small room I", the official music of international convention for Solar Frontier.