electronic evening 2018
2018.8/25(Sat)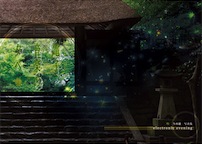 "electronic evening 2018" will be held on Aug.25th.(Sat)at Honen-in temple KYOTO.

evening cool on Honen-in temple KYOTO.
■From every Monday 16:30〜,radio program "KYOTO AIR LOUNGE featuring electronic evening2018" on FM KYOTO α-station.

■tea ceremony: Mattcha is brended by Tsuen the 24th,and will be served with original Pastry by Hosen. 
On the floor of the Jikido(refectory), there is installations by Toru Imanishi and Chihiro Murata.

■And the motion graphics installation by OTOGRAPH,toe on net,
live act by Junichi Akagawa,Coupie,Hiramatsu Toshiyuki,Ken'ichi Itoi,and Oriental Homeward.



photograph: ©toru imanishi



2018.Aug.25(SAT)
electronic evening2018

■electronic evening 2018
2018.Aug.25th 18:00-20:30
Honen-in temple KYOTO
adv¥4,000
Ticket LAWSON:55271
Mattcha(at door) ¥1,000

■HOJYO(abbot's Chamber):
Yumiko Nishio
Orental Homeward
Junichi Akagawa
Ken'ichi Itoi
Hiramatsu Toshiyuki
Coupie
motion graphics :toe on net

■Kita-Syoin(North-study):
installation:OTOGRAPH

■Jikido(refectory):

Pastry:Hosendo
Matcha:Tsuen
flegrance:LISN

installation:Toru Imanishi+Chihiro Murata


■Every Monday,16:30 FMα-station
KYOTO AIR LOUNGE featuring electronic evening 2018 α-station