Coupie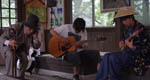 Coupie is a unit by yukki and cobi.
electric guitar and acoustic guitar,voice,bleath,leading,picture book,drawing and chat.
soft and flexible ambience, nonverbal dialogue between yukki and cobi.
cobi
Living in Sendai,he started his music activity in UK.After coming back to Japan,not only as an artist but also he receives traing and works as picture framer,and he is now planning the design of Japanese living loom for next generation.

yukki
Living in Ishinomaki,He was born in traditional roofing tile mason family,He works as a mason@apprentice and studies sustainable Agriculture and as artist.As his conception of "ultimate sounds of nature" ,he collaborates with various artist as contemporary dancers,drawing artist,poetryartist,and more.